Based on topics suggested by the Minnesota autism community, AuSM Skillshops are mini-workshops designed for individuals with autism, parents, caregivers, family members, support staff, educators, therapists, and other professionals.
Upon request, AuSM Skillshop participants may receive a certificate of attendance to submit to licensing boards for Continuing Education Unit (CEU) consideration.
AuSM Members receive a certificate for a FREE AuSM Skillshop and save $10 on each AuSM Skillshop registration.
Cost Per AuSM Skillshop/Per Individual Registration
AuSM Member: $15
Non-Member: $25
Autistic individual or Current Student: $10
AuSM Skillshops are held virtually unless otherwise specified.
2023-2024 AuSM Skillshops are generously sponsored by Best Care, an AuSM Premier Partner.
---
Oct. 17
7-8:30 p.m.
A Developmental Perspective on Sexuality presented by Logan Sand

The goal of this presentation is to provide information on healthy sexual development by discussing typical developmental milestones and what this means for parents, caregivers, and other caring adults. Participants also have the opportunity to practice responding to "teachable moments" to have discussions about healthy sexuality with the young people in their lives. This presentation will focus on healthy development for youth ages 0-18, but these teachable moment conversation skills can also be applied with adults that you care for or help support.
About the Presenter: Logan Sand (they/them) has been the Program Manager for the Seeing and Exploring Life's Future (SELF) Program with Lutheran Social Service of MN since 2017. Their teaching philosophy is to provide anti-oppression and social justice-focused education with a particular focus on consent, decision making, and gender inclusion. Both Sand and the SELF Program are committed to comprehensive, medically accurate, and culturally appropriate sexuality education with a particular focus on individuals who face public health disparities. Sand has been a sexuality educator since 2014, and provides education to youth, parents/caregivers, and professionals in a variety of settings. Sand has presented at the National Sex Ed Conference, is published in the American Journal of Sexuality Education, and has sat on the Equity and Diversity Impact Assessment Committee for Minneapolis Public Schools and MDH's Suicide Prevention Taskforce.
---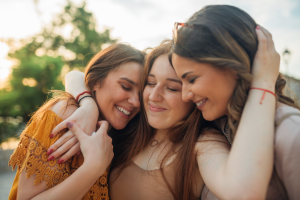 Nov. 14
7-9 p.m.
Speed Friending with MNeurodivergent
In-person at the AuSM office
2380 Wycliff St. #102, St. Paul MN 55114
AuSM is partnering with MNeurodivergent to host a speed friending event. Based on the concept of speed dating, you'll get the chance to meet tons of new people in a quick and structured way. We'll break up into groups: each group will sit on one side of a table and be paired with another group to talk to each other for 3-5 minutes. Once the time is up, the people on one side of the table then get up, move one seat down, and then start talking to the next person on the other side of the table. You'll be able to tell event organizers who you felt connected with and they'll put you in touch with any mutual matches!
About the Presenter: MNeurodivergent is a social club rooted in a vision of bringing neurodivergent Minnesotans together to build meaningful connections. Its core principle is to foster an environment where all are treated with dignity and respect regardless of ability or preference.
---
Nov. 28
7-8:30 p.m.
Guardianship: What You Need to Know presented by Jason Schellack
At age 18, a child is legally considered an adult. Some youth, however, aren't yet ready for all of the responsibilities of adulthood. Many children with ASD will continue to need assistance with their IEPs, transition services, making medical decisions, and applying for government benefits. To legally assist their adult children in these important areas, many parents and caregivers choose to establish legal guardianship.
Learn about the guardianship legal process, limited guardianship, and how some families can qualify for free legal assistance. Understand the powers and responsibilities guardians have under Minnesota law, and how successor guardians are chosen and appointed.
About the Presenter: Jason Schellack (he/him) is the Managing Attorney at the Autism Advocacy & Law Center, LLC, a law firm dedicated to serving individuals with disabilities and their families. Schellack has worked with individuals with autism as a camp counselor, personal care attendant, public defender, and legal advocate. He practices primarily in the areas of guardianship, estate planning, family law, and special education law. Schellack is licensed to practice law in the State of Minnesota, as well as federal district court.
---
Dec. 12
7-8:30 p.m.
Minnesota Service Navigation presented by Jillian Nelson
Join Jillian Nelson, AuSM's Community Resource and Public Policy Advocate, as she discusses the nuances of Minnesota service navigation. Jillian will also provide her own perspective of service navigation as an autistic adult. Learn what services are available and which ones may work best for you and your loved ones. Services vary on an individual and family basis; Jillian is not able to provide what an individual will qualify for in services. However, she can walk you through what the process is like and how to find out what someone qualifies for in the state of Minnesota.
About the Presenter: Jillian Nelson (she/her), Community Resource and Policy Advocate for the Autism Society of Minnesota, was diagnosed with autism as a young adult. With a degree in human services and a background in self-advocacy, she has dedicated her career to helping others with autism achieve their goals, advocating for system change, and spreading a message of education and autism acceptance. Nelson currently sits on The Governor's Council for Developmental Disabilities. She also has worked in employment services, helping others with autism secure and retain appropriate, successful employment.
---
Jan. 9
7-8:30 p.m.
Online Dating: From Profile to Potential Relationship presented by Alyssa Perau
Many unspoken rules come with dating and even more with online dating. Learn about some of those social rules as well as how to set up an online dating profile, discuss some of the popular dating apps, how to prepare for a date, and how to clarify and communicate what you want from online dating.
About the Presenter: Alyssa Perau (she/they) is a sex education teacher for Lutheran Social Service's SELF program. She has been teaching the Sexuality for All Abilities curriculum for the last four years with AuSM, as well as teaching workshops about consent, boundaries, and online dating. Alyssa also loves teaching on topics like healthy relationships, privacy, and sexual orientation and gender identity. When she is not working, she is in graduate school to become an Expressive Arts Therapist and hanging out with her chihuahua Coconut.
---
Jan. 23
7-8:30 p.m.
Examining Our Roots: History of the Neurodiversity Movement presented by Ira Eidle
The neurodiversity movement has existed for roughly thirty years. Much of that history is not well known by many people. There is a lot to discuss when it comes to the movement's history, and how it compares to other disability sub-movements as well as the greater disability rights movement. It is still a young movement, although lots of progress has been made since it started. This panel will go over the different eras thus far of the movement, highlight key moments, and discuss the strengths as well as the shortcomings of the neurodiversity movement.
About the Presenter:Ira Eidle (he/him) is autistic and lives in Decatur, GA. He is the curator and webmaster of Autistic Archive, a website that aims to preserve and document the neurodiversity movement's history. Ira has participated in Autistic Self-Advocacy Network's Autism Campus Inclusion Leadership Academy and moderated a panel on Neurodiversity and Fandoms at DragonCon. He also works part-time at Georgia Aquarium as an exhibit interpreter. Ira holds a Bachelor's of the Arts Degree in Theatre and Performance Studies from Kennesaw State University.