Exhibit, Advertise, Sponsor 2021
Become an Exhibitor, Advertiser, or Sponsor
---
Virtual Exhibit (reserve by 3/31/21)
$500 MN or WI
$700 MN and WI
Booth in MN or WI virtual exhibit hall or one in both halls (logo, pdf resources, video/PowerPoint, social share links, website link, contact details)
Promotion through AuSM's website
Social media acknowledgement
Targeted e-mail acknowledgement
Meeting Your Prospects Kit – how to make the most of your virtual event space
Is the cost to exhibit a barrier for your autistic-led business? Please contact us so we can discuss options for promoting your business during the conference.
---
Virtual/Print Program Advertising (reserve by 3/24/21)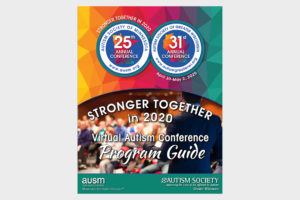 Full Page: $900
Half Page: $700 
The 2021 virtual autism conference will include an online conference program that participants will access to navigate their experience, and that program also will be printed and mailed to the more than 800 participants who will use it to reference and access valuable tools long after the conference ends. Ad Art Due: 3/31/21.
Questions about program advertising? Contact Olivia James at ojames@ausm.org.
---
Sponsor Opportunities (reserve by 3/31/21)
Gold Sponsor $5,000
4 registrations ($1,080 value)
Recorded welcome for overall event
Logo on banner in virtual conference lobby
Logo in digital/printed conference program
One virtual exhibit booth in MN and WI exhibit halls, prime placement
Resource link in virtual conference bag
Large logo on break placeholder slide
Logo placement in sponsor scroll in conference lobby and breakout sessions
Logo/link on website
Silver Sponsor $2,500
2 registrations ($540 value)
Recorded intro for one keynote speaker
Logo in digital/printed conference program
One virtual exhibit booth in MN or WI exhibit hall, prime placement
Inclusion of resource link in the virtual conference bag
Resource link in virtual conference bag
Small logo on break placeholder slide
Logo placement in sponsor scroll in conference lobby and breakout sessions
Bronze Sponsor $1,500
One virtual exhibit booth in MN or WI exhibit hall
Logo in digital/printed conference program
Resource link in virtual conference bag
Logo placement in sponsor scroll in conference lobby and breakout sessions
Temple Grandin VIP Event Sponsor $1,000
Recognition in VIP event welcome
Logo in digital/printed conference program on special VIP session page
Item in Temple Grandin book mailing to all 30 participants (30 items must be provided to AuSM by 4/15/21)