Minnesota Autism Conference Schedule
2023 Minnesota Autism Conference Schedule
To see the virtual sessions, click here.
Wednesday, April 26
12:30-4:30 p.m. Foundational Conference Workshop (available to purchase as a stand alone workshop, is also included in conference registration)
The Minnesota Autism Conference is a place to dive deep into many topics related to autism, but if you're new to the community or looking for a refresher of your basic skills, this Foundational Conference Workshop is a must.
Autism Spectrum Disorder (ASD) is a complex condition. Understanding ASD as a form of neurodiversity helps shift your mind to think of ASD as a difference, rather than a disorder. Although no two individuals on the spectrum are alike, it is likely that you will interact with an individual who is on the spectrum at one time or another. This workshop will help you to understand the experience of autistic individuals, and expand your idea of what ASD is. In this session we will talk about what ASD is (and isn't), different ways that ASD can impact how someone thinks, behaves, and interacts, and strategies to promote success across environments.
The final hour will be spent broken into smaller groups to discuss support strategies relevant to your life. Whether you're a new educator, family member of someone with a new diagnosis, or an autistic just entering the community, this workshop is the place to build your foundational understanding of ASD to help you get the most out of the conference. 
12:30-1:30 p.m. Overview of the autism diagnosis and common characteristics. Includes discussion of current approaches to disability, such as the medical vs. social models of disability, neurodivergence, and identity first language.
1:30-2 p.m. Discussion of common supports and services. Learn about the difference between DSM-5 and SPED qualifications, what supports are available (medical, community-based, and educational), and what the service cliff is.
2-3 p.m. Learn evidence-informed practices, including social narratives, video modeling, task analysis, and visual supports.
3-3:15 p.m. Break
3:15-4:30 p.m. Break into small groups: family members/caregivers, educators and school personnel, professionals, and autistics. Each group will discuss the content of the day, apply examples to real-life contexts, and answer questions.
Thursday, April 27
8-9:30 a.m.: Keynote: Understanding Emotions and Strategies to Develop Self-Regulation, presented by Kari Zweber Palmer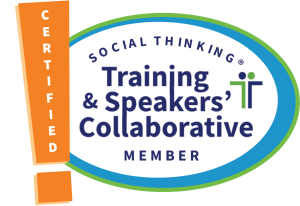 How much do we really understand about emotions? Together we will explore the power of emotions, how the brain processes negative and positive emotions differently, and why this is central to our self-regulation. Discover why negative emotions tend to take center stage and often become barriers to personal and academic achievement—and strategies to break the cycle. Explore hands-on activities and tools to help make the complicated social emotional experience more explicit.
Kari Zweber Palmer is a speech-language pathologist and social-cognitive therapist at her private practice, Changing Perspectives, in Excelsior, MN. She has co-authored, with Michelle Garcia Winner, Ryan Hendrix, and Nancy Tarshis, We Thinkers! Volume 1 Social Explorers and We Thinkers! Volume 2 Social Problem Solvers. Additionally, Kari consults with school districts on implementing Social Thinking into their programming.
Kari's interest in communication and related disorders began long before she studied it formally. Her mom, Jane, is a speech-language pathologist and Kari grew up in the field. Kari received her bachelor's degree from the University of Missouri and master's from the University of Kansas. Following her formal training, she started her career as a speech-language pathologist in the public schools in Minnetonka, MN, working predominately in the early childhood and elementary levels.
10-11 a.m.: Breakout Session 1
Strategies for Choosing the Right Goals and Following Through, presented by James Rechs
This presentation will focus on strategies that neurodiverse individuals, their caregivers, support staff, and educators can use to formulate goals that are realistic, doable, and helpful. James will help you explore your core motivations and identify how you can channel this motivation into success at building the life you want to live.
James Rechs, LICSW, is a therapist with the Autism Society of Minnesota and works in Rochester, MN. He works with teens and adults and enjoys swimming, biking, hiking, playing guitar, and staying hydrated.
Supporting Self-Advocacy for Teens and Young Adults with Disabilities, presented by Cole Sorensen
Self-advocacy skills are essential in navigating the transition to adulthood, but many young people with disabilities are not given the support and opportunity to develop these skills. In this session we will cover the importance of self-advocacy for teens and young adults, practical strategies to support these skills, and current Minnesota programs offering self-advocacy training and support.
Cole Sorensen is the Self-Advocacy Program Director at Minnesota Disability Support Alternatives. He is a nonspeaking autistic educator and public speaker whose work focuses on promoting communication access and self-determination for young people with intellectual and developmental disabilities.
Building Inclusion: A Movement Towards Communities as Purposeful Natural Supports, presented by Joyner Emerick and Paula Luxenberg
If autistic people are to have access to full inclusion, we need communities that are ready to accept and peripherally support folks of all abilities. In order for those communities to exist, we have to learn to build them. Joyner Emerick is an autistic adult who ran for local office and was successfully elected in 2022. Paula Luxenberg, a campaign volunteer, was compelled to learn about autism and accessibility in her role supporting Joyner's run. In this presentation, you'll hear Joyner and Paula's experiences building community with a shared belief that autistics belong everywhere—including on the ballot—and how you can use their strategies to grow inclusion capacity in your own networks.
Joyner Emerick (any pronouns) is an education consultant and strategist with over three decades of lived experience in the Minneapolis schools network, as both a student and a parent. Joyner brings unique expertise to forums on special education, academic equity, and responsive instruction, specializing in the strategic alignment of initiatives across service sectors and operationalizing connections across public, private and non-profit organizations to promote improved outcomes for systemically underserved learners. Joyner campaigned as an openly autistic, multiply disabled candidate for Minneapolis School Board and in November 2022 was elected.
Paula Luxenberg has long been driven by the potential for public schools to be a mechanism for equity. She is the co-leader of the Minneapolis chapter of Integrated Schools, the parent of three Minneapolis public school students, and was the Campaign Access Coordinator for Joyner Emerick's successful campaign for a seat on the Minneapolis Board of Education.
4. What is Disability Justice and Why Does It Matter?, presented by Jules Edwards, Brittanie Hernandez-Wilson, and Jillian Nelson
Just as we're a part of the autistic community, we are also a part of a broader disabled community. People in the disability community often experience segregation and competition for resources. Join advocates Brittanie, Jules, and Jillian as they introduce the Disability Justice Framework, a way to build connections across disabilities and support everyone. They'll share how they use the disability justice principles in both their professional work and personal lives to achieve goals in community building and living self-determined, authentic lives. You'll walk away with principles that strengthen us as a community, and ways you can apply them for community building, liberation, and solidarity.
Brittanie Hernandez-Wilson is a Black and Hispanic queer woman who was born with Arthrogryposis and uses an electric wheelchair to navigate the world. Brittanie is the Equity and Justice Director for The Arc Minnesota. Brittanie has been appointed to the Task Force for Eliminating Subminimum Wage and serves on the Governor's Council for Developmental Disabilities, and The Arc Minnesota Board of Directors. As a homecare recipient, Brittanie is a part of a leadership group for SEIU Homecare MN, where she advocates for better wages for PCAs.
Jules Edwards is an Anishinaabe writer, gardener, accountant, and disability justice advocate. She's passionate about improving child safety and disability policy. Jules' background includes a 2020-21 LEND fellowship, 2021-22 AUCD National Training Director Council trainee, and 2022-23 Wilder Foundation Community Equity Program cohort member. Some of her roles include co-founding Minnesota Autistic Alliance, working board member for the Minnesota Ombudsman for American Indian Families, and providing care to youth with disabilities. She serves in several leadership roles, including elected chairperson of the Minnesota Autism Council, a workgroup of the Minnesota Senate Human Services Reform Finance and Policy Committee.
Jillian Nelson is a queer autistic adult. Jillian is co-chair for the Task force on Eliminating Sub Minimum Wage, as well as the Vice-Chair for the State Rehabilitation Council, and is the full-time Community Resource and Policy Advocate for AuSM. Jillian is passionate about disability justice and teaching others to advocate and navigate often complicated system, as well as reforming existing systems through legislation and advocacy to create a more equitable and accessible society for people with all types of disabilities. She is passionate about diversity and intersectionality and how that unfolds in the mosaic experience of people with disabilities.
11:15 a.m.-12:15 p.m. Breakout Session 2
What Happens if Sub-Minimum Wage Goes Away? The Task Force Has a Plan!, presented by Larissa Beck, Andrea Zuber, and Dalaine Remes
There's a growing national movement to end subminimum wages for people with disabilities. To make sure Minnesota is prepared if this happens, the state legislature set up the Task Force on Eliminating Subminimum Wages in 2021 to help draft a plan. In 2022 the task force began working to ensure a smooth transition if subminimum wages are phased out by state or federal policy changes. In this session, you'll hear from Task Force members about the plan they developed to Eliminate Subminimum Wage work in Minnesota. We have evaluated what other states have done in their process to end subminimum wage work, had many listening sessions and conversations with different groups of people who'd be impacted by the end of subminimum wage work (families, trusted supporters, guardians, case managers, those receiving sub-minimum wages, employment service professionals, etc.). We identified the benefits and challenges to eliminating subminimum wage work and have thoughtfully developed a plan for what the state of Minnesota would need to do to end subminimum wage. The final report was due to the Minnesota Legislature on February 15, 2023. This session will go over the recommendations the Task Force has put forward and discuss how we see the vision of these recommendations come to life for those that are receiving services.
Larissa Beck is the Director of Community Living at Reach for Resources, where she oversees Reach's employment services, in-home services, and housing services. Larissa has served on the Taskforce to Eliminate Sub-Minimum Wages Taskforce since February of 2022 and is a strong advocate for Competitive Integrated Employment and Independent Living Services.
Andrea Zuber serves as the CEO of ARC Minnesota. She has spent her entire career leading the development and delivery of social services with extensive experience in transforming support for people with disabilities and their families. She has championed full inclusion for people with disabilities and people with mental health challenges, integrated employment, and housing. She has previous experience at MN DHS, Ramsey County, and Arc Great Rivers.
Dalaine Remes serves as a Legal Advocate at the MN Disability Law Center. In her time at the Disability Law Center, Dalaine has worked with many people and families of youth to be able to go over different options for work and how to access the systems that the state of Minnesota has.
Neurodiversity in the Workplace: The Power of Unlocking Different Talents and Perspectives, presented by Aja Wolfe
Though nothing new, neurodiversity, including autism, has been gaining notice by employers over the last several years. Organizations have caught on to the benefits that having different perspectives and ways of thinking provide. However, there can be hidden challenges that can impact the creativity and ingenuity of autistic thinkers. Furthermore, autistic individuals still express having difficulty navigating the workplace to best meet their needs, leading to alienation, burnout, and exploitation. In this session, we'll examine some of the unique skills, talents, and benefits autistic employees can bring to an organization and explore what organizations can do to promote and foster neurodiverse-friendly spaces. Autistics will learn strategies and techniques to improve self-advocacy in the workplace and gain confidence to find the "right" position for them. From everyday workplace interactions to workspaces, we'll discuss practical considerations the employers and autistic employees can do to improve the workplace environment to promote mutual benefit and success.
Aja Wolfe is an autistic mental health professional and advocate for the neurodiverse community. Aja received a master's degree in marriage and family therapy, specializing in the rapidly evolving field of neurodiversity and continues to focus on the developing intricacies of neurodivergent and queer communities. Aja has consulted for and presented at several organizations, therapy centers, universities, and school districts around working with, supporting, and demystifying neurodiversity. When not educating or presenting about neurodiversity, Aja works with neurodivergent individuals, couples, and families to identify and employ their unique talents with confidence and pride.
Eliminating Fear of Difference Through Education, presented by Abby Pearson, Brittany Barutt, and William Duncan
Fifty-six percent of students receiving special education services spend less than 10 minutes a day with students outside of special education services. During this time, they are 2-3x more likely to be bullied. As a family member of an autistic student, these numbers need to be radically challenged. Ten years of evidence and evaluations show that Special Olympics Unified Champion Schools strategy is transforming our education system. Whether you are a student, educator, parent, learn how SOMN can partner alongside your school to reduce barriers to meaningful inclusion. Students who participate in the program feel more supported by their teachers and peers, receive better grades, and are more empathetic and compassionate.
Brittany Barutt is a School Programs Coordinator for Special Olympics Minnesota. In her role at SOMN, Brittany guides schools in developing unique Unified Champion Schools programming as well as sustaining and expanding the programming already implemented in each district. In addition to developing in-school opportunities to foster meaningful inclusion, Brittany organizes and hosts Unified sporting and leadership events throughout Central Minnesota. Though not currently teaching, Brittany holds a license in Autism Spectrum Disorders. Prior to joining Special Olympics, Brittany taught K-6th grade students in an ASD/DCD program in the Crosby-Ironton School District and was the assistant coach for the Cuyuna Range Elementary School Unified Sports Teams.
Abby Pearson has worked at Special Olympics for over 10 years. She is an athlete and speaker. She travels to schools sharing her experience from her time in schools and discussing the importance of inclusion and independent living. She is a powerlifter, and her record deadlift is 130 pounds!
William Duncan is 19 years old and a super senior at Bemidji High School. Unified Leadership has given William opportunities to share his story with others and to advocate for inclusion. He was selected to serve as a US Youth Ambassador this year, and he is proud and excited to get to be in a leadership role at the national level. William didn't speak a lot before age 10, but now uses his voice to promote inclusion for everyone; he hopes to make a legacy of inclusion for all the students coming after him. William is part of the Unified Generation because he wants to help Special Olympics make it a better place for all students; he wants to help to grow not just a generation of Unified students, but a legacy that continued to grow by teaching other students how to lead and be confident to overcome problems in their schools and communities.
The Intersection of Autism, Literacy, and Communication, presented by Kayna Plaisted
Have you ever met someone with Autism who quickly learns letters and a few words yet has difficulty achieving higher reading levels? How about an Autistic who struggles with using the words they know how to read within a conversation or answer comprehension questions? This session will explore the crossroads between Autism, literacy, and communication. We will travel through research and theory to gain an understanding of the literacy profiles often found to be a part of the Autism Spectrum. Participants will leave with practical ideas for improving comprehensive literacy, which builds expressive and receptive communication skills for speaking and nonspeaking people with Autism.
Kayna Plaisted is the Regional Professional Development Facilitator at the Metro ECSU, coordinating Minnesota Low Incidence efforts in the metro region. She holds licenses as a Special Education & Reading teacher. Kayna has had many roles, including Classroom Teacher, Curriculum Support Specialist, Instructional Coach, and Adjunct Professor, over her years of experience servicing the field of special education. Kayna believes the highlights of her experience come from growing up alongside her three siblings with disabilities and working intensively with various families outside the school setting.
12:15-1:15 p.m. Lunch
1:15-2:45 p.m. Keynote: A New Vision for Supporting Autistic and Neurodivergent Students, presented by Dr. Mona Delahooke
Dr. Delahooke will be presenting virtually.
This workshop addresses what's missing in our current understanding of how to support autistic and neurodivergent children, including those diagnosed on the autism spectrum. Teachers and rehabilitation providers are trained in singular disciplines and thinking, rather than an integrated approach to the brain- body connection resulting in a piece-meal approach to treatment goals across a child's private providers and IEP teams.
Too often, we view a child's behavioral differences as items of an autism-diagnosis checklist instead of understanding that they are a child's way of adapting to how his or her body-brain highway processes information. Many individuals diagnosed on the spectrum have their behaviors targeted as the focus of treatment.  In this workshop we will redefine the differences we observe in neurodiverse children. Doing so will help us begin to teach children to respect the signals from their own bodies and to involve them in devising creative solutions that honor their own individual differences. This approach to autism stands in contrast to approaches that involve cajoling, reinforcing and non-reinforcing of surface behaviors.
Mona Delahooke, PhD, is a licensed clinical psychologist with more than 30 years of experience caring for children and their families. She is a senior faculty member of the Profectum Foundation, an organization dedicated to supporting families of neurodiverse children, adolescents and adults. Dr. Delahooke holds the highest level of endorsement in the field of infant and toddler mental health in California, as a Reflective Practice Mentor (RPM). She is a frequent speaker, trainer, and consultant to parents, organizations, schools, and public agencies. Dr. Delahooke has dedicated her career to promoting compassionate, relationship-based neurodevelopmental interventions for children with developmental, behavioral, emotional, and learning differences. She is the author of the award winning book Beyond Behaviors: Using Brain Science and Compassion to Understand and Solve Children's Behavioral Challenges (PESI, 2019), and Brain-Body Parenting. Her popular blog, at www.monadelahooke.com covers a range of topics useful for caregivers and childhood providers.
3:15-4:15 p.m. Breakout Session 3
The Importance of Sexual Education for Autistic People (Including AAC Users), presented by Donnie Denome
In this session, we'll talk about consent, relationships, and sexual education (CRSE) for autistic people, and particularly autistic AAC users, of all ages. We'll discuss what CRSE is, and talk about what healthy, robust, and age appropriate CRSE looks like. You will learn about what you can do to help autistic people, particularly autistic AAC users, be part of healthy, robust, and age appropriate CRSE.
Donnie TC Denome is a nonspeaking autistic self-advocate. They hold a master's in Public Health with a focus in health education for people with disabilities. Donnie has previously worked with organizations like the Autistic Self Advocacy Network, CommunicationFIRST, and SARTAC. Donnie is passionate about health equity and access to healthcare for people with disabilities. Previously, Donnie presented at the AAC in the Cloud and Closing the Gap conferences. In their free time, Donnie likes to knit, crochet, go bowling, and spend time with their boyfriend.
Supporting Individuals with Profound Intellectual and Multiple Disabilities (PIMD), presented by Eric Ringgenberg
Profound Intellectual and Multiple Disabilities (PIMD) is a term used in Europe to reference individuals with significant support needs that are intensive, unique, and required for their care and quality of life. These individuals live in our communities, and providing support across settings is possible. Join this session to learn more about these topics, as well as discuss options to better include these individuals in our communities.
Eric Ringgenberg (he/him) is the Education Program Director for the Autism Society of Minnesota. He has a Bachelor of Science in Child Psychology from the University of Minnesota- Twin Cities and a Master of Arts in Special Education – Autism Spectrum Disorders, from the University of St. Thomas. Additionally, Eric has extensive experience working with individuals on the autism spectrum in multiple settings and capacities, coordinating implementation of evidence-based practices, and delivering trainings on a variety of topics.
Trauma, Special Needs and Interventions, presented by Tamera Pulver, Fran Bieganek, and Guy Odisha
Developmental trauma is where trauma meets attachment. The study of trauma is new – within the last 30 years. The research has discovered multiple ways we can all recover from trauma and live more joyful lives. Further, the effects and symptoms of trauma mimic ASD and other mental health conditions. Learn what the experts are finding in research-based interventions in therapy, everyday living, and classroom practices to regulate ourselves and co-regulate with others for a more peaceful and joyful life.
Tamera Pulver, EdS, studied child psychology at the University of Minnesota, studying with Dr. Alan Sroufe. She took a long break to work, marry and raise her daughter – eventually working as a para in her school. She loved this work, so she returned to school. Working as a high school and middle school teacher, she completed a specialist degree in educational leadership. Tammy works with charter schools as a Director of Special Ed. The pandemic prompted her to dive deep into traumatic studies with the Trauma Research Foundation and Dr. Bessel van der Kolk.
Fran Bieganek, MS, LP, BCN, CCTP, is a licensed psychologist, Board Certified in Neurofeedback, a Certified Clinical Trauma Professional, and a Qualified Neutral for the State of MN. She has a private psychotherapy practice in Edina, MN and is Co-Founder of Bhakti Brain Health Clinic–Neuroimaging & Neuromodulation. Fran is also a retired tenured track Professor of Psychology in the Minnesota State College and Universities System. Fran has over 30 years of experience in the field including neurotherapy services, clinical psychotherapy services and tenured college faculty. Fran brings a holistic approach to the work she does with children, adolescents and adults. Through the course of treatment and training, neurotherapy and psychotherapy clients go through dynamic changes. Fran's years of experience specializing in trauma recovery, grief, anxiety-related disorders, mood-related disorders and personal growth serve as a foundation to help guide her clients through this process. While neurotherapies can facilitate remarkable transformation in alleviating symptom patterns, it can also be a game-changer in achieving optimal performance at work, school, sports and artistic endeavors.
Guy Odishaw, CTO, NFP, Healthcare Entrepreneur, Bioelectric Medicine Practitioner, is founder of Bhakti Wellness Center, one of the largest, most diverse, integrative medicine clinics in the country. He is cofounder of the first integrative student health clinics in the country at the University of Minnesota. Cofounder of Bhakti Brain Health Clinic – Neuroimaging & Neuromodulation. Cofounder of Minnesota Bredesen Clinic – Dementia Prevention & Treatment. Co-founder of CerebralFit Brain Training, a Nutraceutical, Electroceutical, company. Guy's 30 years of clinical experience specializing in treatment resistant chronic pain, traumatic brain injury and psycho-emotional trauma informs his approach to brain health. Additionally, his 20+ years as meditation instructor and facilitator of courses on personal growth help him understand how to support clients through the potent changes arising from Neurotherapy. Brain training does not only alleviate unwanted symptoms itoften also positively changes one'swhole sense of self and relationshiptothe world around them.
Centering the Margins: Intersectionality, Power and Radical Solidarity, presented by Ashley Oolman
This workshop uncovers the complex relationship with multilayered identities, power, and solidarity. A facilitator will lead a dialogical session intended to dig into the nuance of carrying marginalized identity and holding space. Participants will be challenged to confront their own power, and identify ways to actively challenge the status quo. Together we will build skills in disrupting social norms and centering marginalized voices, leaving with collective ideation mapping for healing and liberation.
Ashley Oolman, founder & equity consultant of Allied Folk, guides partners through evidence-based best practices, organizational development, and progressive thought leadership. From large corporations to non-profits, she transforms strategic business initiatives and advances equitable community spaces. With more than a decade of leadership experience in advocacy, employment, and workplace culture, she understands how to navigate complex environments and provide actionable insights for growth.
Her work has been featured on podcasts, and she has keynoted at state and national conferences. Ashley earned an MBA with a concentration on human resource management, a BA in psychology with a minor in human development and family studies, and a certification in organizational diversity & inclusion. She is committed to inclusion as a means to advance human rights for all people, in all walks of life.
Friday, April 28
8-9:30 a.m. Keynote: The Past, Present, and Future of Autism Politics, presented by Eric Garcia
The policies that shape autistic people's lives were not written with autistic people's input. Author and journalist Eric Garcia explains why that was the case, how we ended up with the current landscape of policies toward autistic people, how autistic people have raised their voices since, and what this could mean for the future of autism policy in America.
Eric Garcia is the senior Washington correspondent at The Independent and a columnist at MSNBC. He is the author of the book "We're Not Broken: Changing the Autism Conversation." He previously worked as an associate editor at the Washington Post and The Hill, as well as a reporter at Roll Call, National Journal and MarketWatch. His writing has been featured in the New Republic, the Daily Beast, the American Prospect, Medium and the Week. He is a graduate of the University of North Carolina and lives in Washington, DC.
10-11 a.m.: Breakout 1
Transitioning Together: A Community Partnership Promoting Culturally Responsive Approaches to Transition Planning, presented by Fatima Molas, Rufo Jiru, Rebekah Hudock, Maren Christenson Hofer, Chimei Lee, and Erika Schulz
This presentation will share the results of a year-long partnership between researchers at the University of Minnesota and the Multicultural Autism Action Network (MAAN) examining the transition from youth to adulthood for autistic youth and their families in multicultural communities. Presenters will share the results of surveys, focus groups, and interviews which examined perceptions of youth and families of the transition services they received. Presenters will share perceptions of the cultural accessibility of existing services, discuss community preferences for receiving information, and outline pathways to improve transition access and outcomes for autistic youth in multicultural communities.
Fatima Molas is the mother of a nine-year-old autistic child and brings a breadth of knowledge and expertise navigating medical systems and services from both the parent and practitioner perspective. She founded the Multicultural Autism Action Network (MAAN) along with her colleagues after seeing firsthand how difficult it was for families from multicultural communities to navigate services and support for their children. Ms. Molas has served hundreds of families and is a leading voice for disability supports in the Somali community.
Rufo Jiru is the mother of four children and a chemist by training. She is also the founder of Anole Sisters, the first advocacy organization for Oromo women and children in Minnesota. Ms. Jiru's work serving the autism community began with her work as an interpreter for families receiving special education services for Saint Paul Public Schools where she saw firsthand how difficult it was for families in the Oromo community to access supports and services for their children. Throughout her tenure first as a volunteer and then as a board member, Ms. Jiru has served hundreds of families in the Oromo community.
Dr. Hudock and the UMN Autism & Neurodevelopment Clinic provide clinical services, family support, and resource coordination for families of children with IDD. Dr. Hudock assisted in developing and currently runs the Transitioning Together program, which provides psychoeducation, support, and resources to assist families of adolescents with ASD navigate the transition to adulthood. She was also site PI for a multi-site RCT examining a program called Working Together, which provided psychoeducation, support, and resource coordination for families with young adults with autism navigating the transition post-high school.
Maren Christenson Hofer is the parent of ten-year-old autistic child and Executive Director of the Multicultural Autism Action Network (MAAN), which provides services to hundreds of families of autistic children in the Somali and Oromo communities in Minnesota, and has reached thousands more through social media tools developed specifically for the communities it serves.
Dr. Chimei Lee is an assistant professor at the University of Minnesota and a pediatric neuropsychologist providing clinical services at the UMN Autism & Neurodevelopmental Clinic. Dr. Lee specializes in assessment and intervention for children with ASD and other neurodevelopmental disabilities. She provides neuropsychological evaluations and consultations for children with complex medical conditions, and genetic abnormalities, as well as a variety of other neurodevelopmental and social-emotional challenges. Dr. Lee also involves in translational research for serving individuals with ASD and other neurodevelopmental disorders and their families with diverse cultural and linguistic backgrounds throughout their lifespan.
Erika Schulz is a research assistant at the University of Minnesota Autism & Neurodevelopment Clinic. She graduated from the UMN with a degree in Psychology and two minors, Integrative Neuroscience and Racial Justice in Urban Schooling. 
Regulation Stations, presented by Elizabeth Duffy and Michelle Pettit
We will begin with a discussion of all the factors that impact regulation. Next, we will explain how to use resources as you explore regulation stations which feature a variety of tools and strategies for hands-on learning.
Learn about:
Factors that impact regulation
Strategies, supports, and tools for self-regulation
Stations to trial a variety of tools to support self-regulation
We will use a variety of resources during the interactive session including Autism Level Up's "The Regulator" and "My Energy" as well as introduce other helpful resources you can explore further after the session.
Lizzi Duffy (AuDHD) is president and founder of MnNEAT (Minnesota Neurodiversity Education Advocacy and Therapy Services), a new nonprofit organization that provides education created by neurodivergent individuals to professionals and the community. Lizzi Duffy is also co-founder and co-owner of a private occupational therapy practice, Roots and Wings Therapeutic Services LLC, which provides community-based occupational therapy services across the lifespan.
Michelle Petit is an occupational therapist and registered yoga teacher who is passionate about connecting with people to facilitate their engagement in meaningful life activities that support their independence, confidence, and goals. She uses various techniques tailored to meet your needs, including (but not limited to) sensory, motor, nature-based, and activity-based. She is consistently learning and self-reflecting to ensure quality and compassionate services.
Using Dialectical Behavior Therapy to Help Adolescents Manage Stress and Anxiety, presented by Ann Duevel
This presentation is for parents, caregivers, educators, and/or health care providers who wish to know more about how to incorporate tools from Dialectical Behavior Therapy  (DBT) into their work with children and adolescents who struggle with stress and anxiety. This presentation will outline the basics of DBT, discuss how it's used in therapy, and offer practical tips for using helpful skills and treatment tools from DBT to help young people manage their stress and build emotional resilience.
Ann Duevel, MSW, LICSW, LADC, is a psychotherapist from St. Paul, MN. Her areas of specialization include treating adolescents and adults who struggle with depression, anxiety, complex trauma, and addiction. She is also a public speaker who is passionate about teaching members of the wider community about the importance of mental health, and she owns a coaching business where she trains high-performing professionals how to become more self-compassionate without having to go to therapy.
4. Creating Accessible Events From the Ground Up, Presented by Zephyr James
Do you host classes, meetings, trainings, or events that you want to make more accessible? This session will look at how you can incorporate accessibility from stage 1 into any space or gathering. We'll look at all aspects of accessibility: not just for participants, but for speakers, volunteers, and organizers as well. From the physical considerations of the space, to sensory needs, to communication, you'll learn strategies for keeping an inclusive mindset no matter what kind of activity you're planning.
Zephyr James is an autistic adult and the Director of Marketing at the Autism Society of Minnesota. With over seven years of experience in the autism field, they spend their time talking to autistic community members to create resources that meet the needs of the community where they are. Zephyr has completed the Partners in Policymaking disability advocacy program and was a Minnesota LEND Fellow.
11:30 a.m.-12:30 p.m. Breakout Session 2
Clearing up the Confusion about Transition from School to Adulthood (part 1 of 2), presented by Alyssa Klein 
Many students and families continue to be confused about the school to adulthood transition process. Parents are unclear what services and opportunities should be going on for autistic teens and young adults between ages 14 through 21, and after. What is offered and provided to transition age individuals varies across Minnesota by school district and county. In this session, we will review the transition timeline, common services and skill development opportunities.  Each adult's role and the student's role, and how transition services are individualized to each student's interests, goals, strengths, and support needs. We will discuss how to assist students plan their "good life" and consider work in the community as part of a good life. We will discuss how teens and young adults with significant disabilities are attaining and maintaining community employment. And we will provide resources for parents, professionals, and students.
Alyssa Klein
Alyssa has worked for Vocational Rehabilitation Services (VRS) for 26 years. She began her tenure as a career guidance (VR) counselor for youth and adults with disabilities. In her current statewide role, she works on policy, leads interagency initiatives and provides training and technical assistance to VRS staff and stakeholders related to assisting youth with disabilities to be successful in postsecondary education and employment. Her primary interest is to see that all people with disabilities have the information, opportunities and supports needed to explore, prepare for and be successful in careers.
Make it Make Sense: Practical Coping Techniques for Trauma, presented by Sara Lahti
The connection between autism and trauma is not a new concept, but it is a relatively new area of research. And while the research provides good information, how does one make it make sense? How can one apply this relatively new information to decrease the pain of triggers? This session will cover the basics of trauma, how autistic people may experience triggers, and practical everyday methods to cope with trauma.
Sara Lahti, MA, LPCC (she/her) is a licensed mental health practitioner working with the Autism Society of Minnesota. She previously worked with autistic children as well as developmentally disabled adults in a day program setting. She received her master's degree from Adler Graduate School in 2018; her thesis was on the use of early recollections with autistic clients. She is an EMDR-trained therapist who specializes in trauma and LGBT mental health in addition to autism. In her free time, she enjoys watching true crime videos and raising snakes with her husband.
Ableism in Education: What Educators Need to Know, presented by Joyner Emerick, Maren Christenson Hofer, and Ryan Haenze
The discussion will focus on the impact of ableism in education and will provide answers to questions such as:
What is ableism?
How does ableism inform educational experiences? As student? As a parent? As a teacher?
How does ableism intersect with other equity issues? Where does ableism fit into our discussions about diversity, equity, and inclusion?
How do we recognize ableism and what actions can we take?
Joyner Emerick is an education consultant and strategist with over three decades of lived experience in the Minneapolis schools network, as both a student and a parent. Joyner brings unique expertise to forums on special education, academic equity, and responsive instruction, specializing in the strategic alignment of initiatives across service sectors and operationalizing connections across public, private and non-profit organizations to promote improved outcomes for systemically underserved learners.
Ryan Haenze is a disability activist and a legal advocate at the MN Disability Law Center, where he primarily works as a member of the youth services/special education team. Common issues that Ryan advocates for include IEP accommodations, student transportation, providing services in a student's least restrictive environment (LRE) and the legal due process right to a free and appropriate education (FAPE). In his role, Ryan investigates alleged mistreatment, restraint and seclusion in special education settings and provides advice, referrals, and next steps in each case. Ryan was diagnosed as autistic at age three and received special education services until he was 21. Ryan brings a rare, combined student/teacher/advocate perspective on special education.
Maren Christenson Hofer is the mother of a delightful autistic 10-year-old. She currently serves as the Executive Director for the Multicultural Autism Action Network (www.maanmn.org), a nonprofit organization founded by parents of autistic children in multicultural communities to help families from diverse communities access services and supports for their children.
Maren also serves on the Board of Directors for the Arc of Minnesota, serves as the policy liaison for the Minnesota State Autism Council, and leads Minnesota's Comprehensive System of Personnel Development (CSPD) Recruitment and Retention team. Ms. Christenson Hofer received her Master's in International Management from the University of St. Thomas, and is an alumnus of Minnesota's Leadership Education in Neurodevelopmental Disability (LEND) fellowship program.
4. Developing Self-Regulation with Biofeedback and Self-Hypnosis presented by Dr. Andy Barnes
If you've ever wondered how to tap into your brain's capacities to positively influence the rest of your body, such as your heart and immune system, this session will provide opportunities to experience at least two methods for doing so, and to learn more about it, including methods for ongoing professional and personal training in self-regulation.
Andy Barnes is Developmental-Behavioral Pediatrician and Associate Professor of Pediatrics at the University of Minnesota Medical School, where he is the fellowship director for Developmental-Behavioral Pediatrics and the clinical director for Minnesota's Leadership Education in Neurodevelopmental Disabilities (LEND) program. His research and clinical work focuses on factors that promote resilience such as sleep, self-regulation, and social relationships.
12:30 p.m.-1:30 p.m. Lunch
1:30-2:30 p.m. Breakout Session 3 
Clearing up the Confusion about Transition from School to Adulthood (part 2 of 2), presented by Abbie Wells-Herzog and Margie Webb
Many students and families continue to be confused about the school to adulthood transition process. Parents are unclear what services and opportunities should be going on for autistic teens and young adults between ages 14 through 21, and after. What is offered and provided to transition age individuals varies across Minnesota by school district and county. In this session, we will review the transition timeline, common services and skill development opportunities.  Each adult's role and the student's role, and how transition services are individualized to each student's interests, goals, strengths, and support needs. We will discuss how to assist students plan their "good life" and consider work in the community as part of a good life. We will discuss how teens and young adults with significant disabilities are attaining and maintaining community employment. And we will provide resources for parents, professionals, and students.
Abbie Wells-Herzog is the Autism Specialist for Vocational Rehabilitation Services, a division of the Department of Employment and Development.
Margie Webb is the Customized Employment Specialist for Vocational Rehabilitation Services, a division of the Department of Employment and Development.
MNprov Recess – Stretch Your Legs and Stretch Your Brain, presented by Michael Bruckmueller and Kelly Kautz
Take a break, have fun, and play some improv games. In this session you can give yourself some self-care by laughing for an hour. Laugher is a great form of stress relief. It stimulates your organs, releases endorphins, gives you a relaxed feeling, reduces physical symptoms of stress, and improves your mood. As you play, you will experience a safe environment of acceptance and support. We won't be lecturing, so if you want to learn how improv supports mental wellness, come visit our table. We'd love to tell you all about it. But, for this session, come ready to play!
Michael Bruckmueller (he/him) is a teaching artist with 25+ years of experience in theatrical improvisation. He works as the Director of Education at CSz Twin Cities and does freelance coaching and instruction. Bruckmueller is a co-founder of MNprov and provides applied improvisation workshops focused on strengthening students' social, emotional, and communication skills.
Kelly Kautz (she/her) is a national board-certified special education teacher with 25+ years of experience. She is a MNprov co-founder and provides professional development for educators and service providers to allow them to use applied improvisation strategies to support their students' social, emotional and communication growth.
Updates to the DSM: How the DSM 5 TR Expands Recognition of Autism Characteristics in AFAB and Racially Diverse Individuals, presented by Beth Pitchford
Historically, people assigned female at birth (AFAB) and racial minorities have been diagnosed as autistic at significantly lower rates than white men and boys. This session will overview the changes in the DSM 5 TR that highlight characteristics seen in AFAB individuals that are often overlooked by human service professionals as well as the acknowledgement of misdiagnosing of individuals in underrepresented groups. You'll walk away with a better understanding of how to spot autism in women and girls, as well as how our systems play a role in who receives diagnosis and services.
Beth Pitchford (she/her) earned a Master's Degree in Psychology from the Adler Graduate School (AGS), where she focused on learning about autism and how various aspects of Adlerian psychology could compliment the standard use of cognitive behavioral therapy with people on the autism spectrum. Pitchford became passionate about working with people on the "invisible" part of the spectrum (formerly known as Asperger's syndrome) after she realized that many people close to her are on the spectrum and have spent most of their lives wondering why they felt so different.
Working as a Team to Support Our Students: Navigating the IEP System and a Student's Legal Rights in Education, presented by Ryan Haenze and Yumma Moore
In this session, representatives from the Minnesota Disability Law Center (MDLC) will outline the Individualized Education Program (IEP) system with a focus on how educators and parents can work together to ensure that the IEP process is accessible to all families. Presenters will share tips for parents on how to navigate the IEP system from initiating and revising an IEP to transition planning including information about IEP requirements, IEP meetings, and the legal rights of parents and students. Advocates from MDLC will also provide an overview of dispute resolution options, including due process complaints, to address disagreements about an IEP or special education rights violations.
Ryan Haenze: Ryan is a Legal Advocate at the MN Disability Law Center where he works on special education and employment cases, advocating for children, parents, youth and adults with disabilities. Before his position as an advocate, Ryan was a setting 3 DCD and ASD educator in the Minneapolis and St Paul Public School districts for six years and holds an Academic Behavioral Specialist (ABS) degree from Augsburg University. Ryan brings a unique perspective and a depth of knowledge and experiences to the IEP process as an autistic former student with an IEP, a special educator, and as an advocate. Ryan actively works to advocate for disability rights and the dismantling of individual and systemic ableism in both his professional and personal life.
Yumma Moore: Yumma is a Legal Advocate at the MN Disability Law Center where she works on special education and community integration cases, advocating for children, parents, youth and adults with disabilities. Prior to working as an advocate, Yumma was working towards licensure as a Licensed Professional Clinical Counselor (LPCC). She has raised two children with disabilities who had IEPs from kindergarten through graduation, which is where her passion for this work comes from. Yumma's knowledge in this area comes from her firsthand experience as a parent involved in the IEP processes over many years.
2:45-3:45 p.m. Breakout Session 4
When the Frontal Lobe Does Not Cooperate, presented by Sara Swan
The frontal lobe is the motherboard of the brain. A person's executive functioning occurs in this area and at times the frontal lobe does not function as it should. During this breakout session we will explore what is executive functioning and how to use the tools in your life toolbox to adapt to your environment so you can be a productive member of society.
Sara Swan is the founder and executive director of Looking Forward Life Coaching, a Twin Cities based nonprofit that provides life coaching for neurodiverse and atypical individuals. Sara and her team of coaches mentor exceptional individuals in all aspects of executive functioning. Sara helps change stumbling blocks of life into steppingstones towards success.
Don't Sleep on Sleep – Practical Sensory Approaches to Support Rest presented by Meagan Flom
We can all relate to what it feels like to go about our normal work or school days after a night of not sleeping well. It is estimated that somewhere between 40 and 80 percent of autistic children experience significant sleep disturbances. From slower thoughts to sluggish movements to increased sensory disturbances – we know sleep really does impact every activity we do. Unfortunately, sleep seems to take low priority to other goals like communication, academic skills, and play within clinical settings. In this session, we will explore the personal, task, and environmental factors that influence sleep. We will also explore sensory tools and strategies that can support multiple aspects of sleep and relaxation.
Meagan Flom is currently a pediatric occupational therapist working in Inver Grove Heights, MN. She graduated from the University of North Dakota in 2016 with a Bachelor's degree in rehabilitation and human services, and in 2020 with a Master's degree in occupational therapy. She has additional training and special interests in the sensory systems, primitive reflexes, mental health, and regulation.  She thoroughly enjoys working with neurodiverse clients and aims to use safe, trauma informed approaches with all my clients. In her time away from work she enjoys thrift shopping, hiking/camping, and hanging out with her cat.
   3. How Providers and Educators Can Work With Autistics To Build Accessible Services, presented by Rene Joy
Guided by the "Build With, Not For" ethos towards a social model of disability, this talk by Rene Joy explores fundamental elements of participatory, action-based research and how they apply to service providers and the systems. You'll learn actionable ways to work with the people you support to create person-centered practices. This talk models methods of dismantling frameworks that are designed from the medical/clinical model by using person-centered, trauma-informed design and practice.
As a disabled autist and trauma survivor, Rene Joy facilitates self-discovery, trauma recovery and inclusion with games, stories and moments created collectively. She combines her lived experience, community-based training and unique talents to strengthen interpersonal connection and advance socioeconomic equity.
Supporting Autistic Youth: Insights from the Autism Mentorship Program, presented by Megan Perera, Emily Goldberg, AJ Hokland, and Cameron Hallonquist
Designed by autistic adults and allies in Minnesota, the innovative Autism Mentorship Program (AMP) pairs autistic teens with autistic adults in 1-to-1 mentoring relationships to provide emotional support, help in developing their strengths and advocating for their needs, and a sense of identity and belonging.
In this presentation, AMP staff, researchers, mentors and mentees will share:
The benefits of this kind of mentoring program
What we have learned about supporting autistic individuals through the process of creating a program built from the experience and wisdom of autistic community members and caretakers
Megan Perera is the Program Coordinator for the Autism Mentorship Program. Megan identifies as autistic, neurodivergent, and disabled, and is passionate about increasing access for all, striving for transformative justice in all their work. A recent graduate of the University of Minnesota (UMN), they majored in Music Therapy with a minor in Health Psychology and served as Volunteer Coordinator and Diversity, Equity, and Inclusion Chair for the UMN Marching Band. While at UMN, Megan received funding from the UMN Undergraduate Research Program Grant to conduct research examining the educational experiences of neurodivergent music therapy students.
AJ Hokland has been involved in the Autism Mentorship Program since the early stages of its development. Currently serving as AMP's Program Consultant, they assist in developing program curriculum, inform AMP communications, and mentor the autistic adult mentors. A member of a multi-generational autistic family, AJ is an autistic individual with three autistic adult offspring. AJ has experience in special education teaching disabled and autistic students, as well as volunteering in the Minneapolis Public Schools. They have also been the sole proprietor of a custom sewing and alterations business for over 25 years.
The founder of the Autism Mentorship Program, Emily Goldberg parents 8th grade autistic twin boys whose insights sparked the idea for AMP. A documentary filmmaker, video and podcast producer by profession, she brings decades of communication, avid research, and deep listening skills to the program's development. Emily oversees the program, engaging in strategic planning, establishing partnerships, and working to secure financial support.
Diagnosed at age three with ASD, Cameron Hallonquist has endured the hardships and prejudice of feeling different from his neurotypical peers and is moved to share his experience as a public advocate. A University of Minnesota research assistant, he provides guidance and insights to AMP, as well as the Transition to Employment program. Outside his work as an Investment Risk Analyst at Columbia Threadneedle Investments, Cameron has also taken on nonprofit public advocacy roles with AuSM and MnNEAT. With aspirations to be a public advocate on the state level, he ran for a board position for the MN State Council on Disability.