AuSM jigsaw puzzle contest tons of fun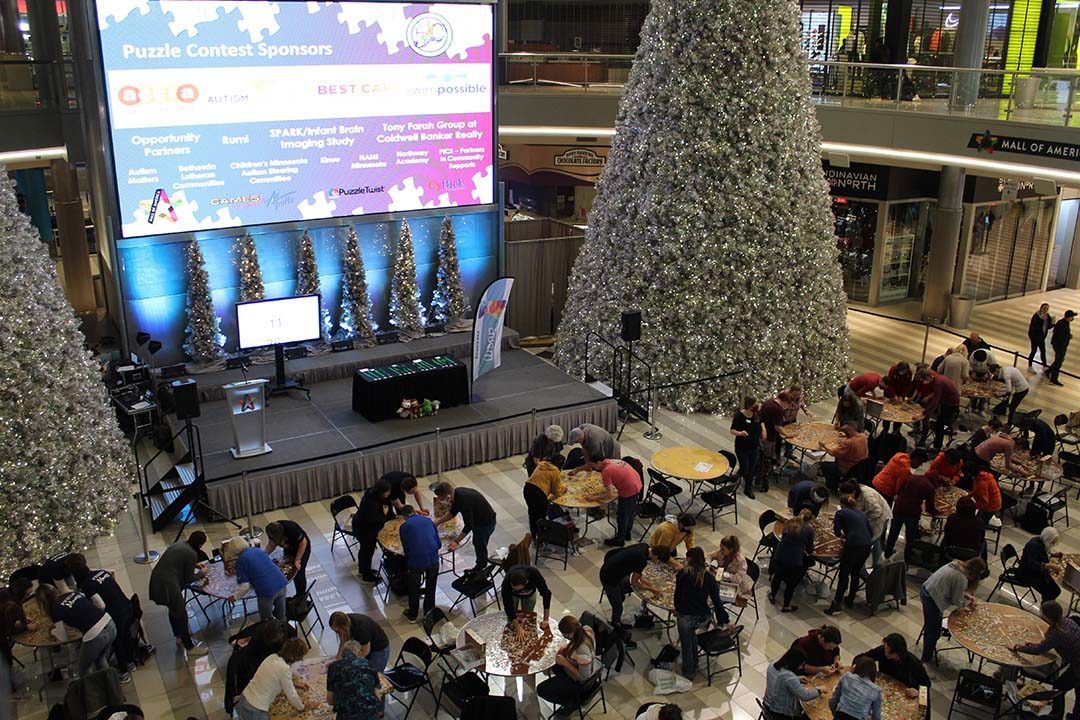 Thank you to everyone who participated in the 4th Annual AuSM Connections Jigsaw Puzzle Competition on Nov. 6, held in-person at Mall of America and virtually through the Zoom platform. More than 125 teams of one to four members competed in the 500-Piece and 1,000-Piece competitions, amazing event spectators with their amazing puzzle finishing times.
While teams worked hard in-person at the Mall of America, AuSM also had several Zoom rooms where the competition was intense for teams throughout Minnesota and the U.S. including Indiana, Illinois, Utah, Massachusetts, Iowa, Michigan, Kansas, Washington, Georgia, North Carolina, Kentucky, Oregon, California, and Pennsylvania.
An in-person event highlight, AuSM's information-packed autism resources fair featured event sponsors and the products and services they provide to the local autism community. Puzzler, spectators, and mall visitors were eager to visit sponsor tables and to learn more about what each had to offer.
AuSM is grateful to event partners, Mall of America, PuzzleTwist, Games by James, and CyBick Productions as well as our sponsors, including including Silver Sponsors: Accra, Autism Advocacy & Law Center, Best Care, and SwimPossible; Bronze Sponsors: Opportunity Partners, Rumi, SPARK/Infant Brain Imaging Study, and Tony Farah Group at Coldwell Banker Realty; and our Resource Table Sponsors, Autism Matters, Bethesda Lutheran Communities, Children's Minnesota's Autism Steering Committee, Kinuu, NAMI Minnesota, Northway Academy, and PICS – Partners in Community Supports. This event couldn't happen without their generous support!
Results from the competition will be shared on this page on Nov. 10.
---
Note: The Autism Society of Minnesota does not support the use of the puzzle piece as a symbol for autism and does not use puzzle piece images or references in any of the autism information and resources we provide. This decision was made based on the concerns of autistic people and their objections to the use of the puzzle piece as a symbol for autism.
AuSM's jigsaw puzzle competition is a contest that brings folks from across the country together as teams to compete in-person and virtually in a hobby that has an enthusiastic following and is unrelated to the use of the puzzle piece as a symbol. This puzzle-constructing competition is a fundraiser that supports AuSM's programs and services for the local autism community, and includes an autism resource fair where folks can learn more about autism. AuSM's jigsaw puzzle fundraiser was created based on the wide-following of this hobby and the opportunity to educate community members while providing a family-friendly, inclusive event that supports AuSM's mission.