April 27-29, 2022
Virtual Content from Conference Available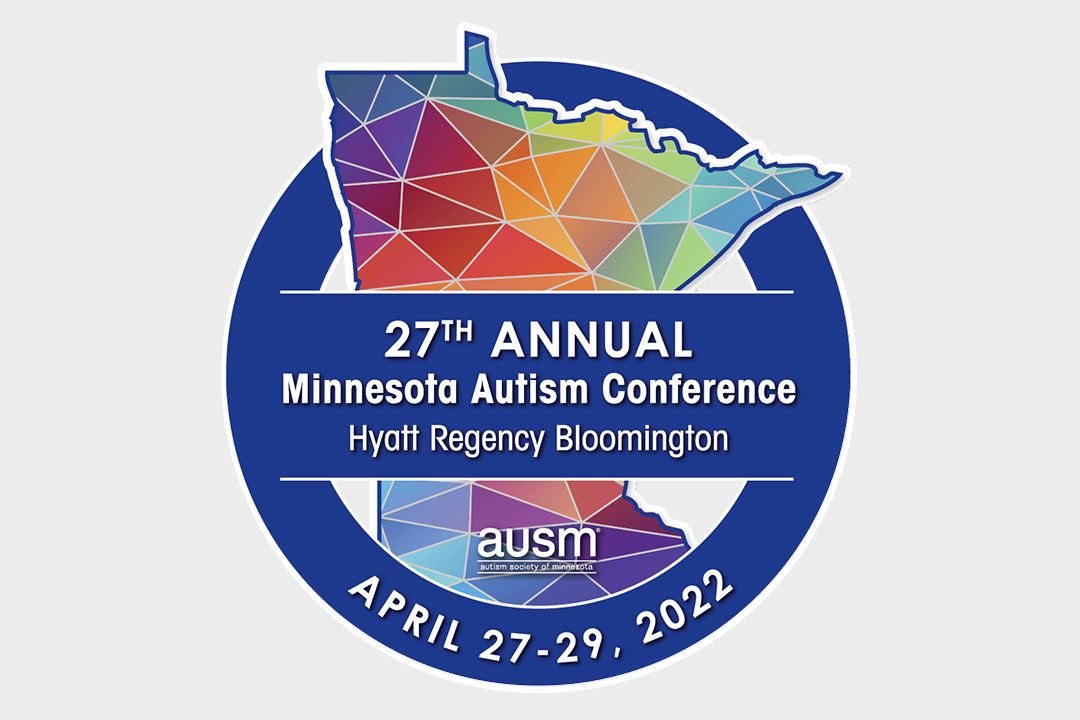 Conference participants, thank you for being an integral part of the 2022 Minnesota Autism Conference, held April 27-29.
Bonus virtual content registration is still available. In recognition of the valuable partnership our organizations have developed after co-hosting two years of virtual conferences, the Autism Societies of Minnesota and Greater Wisconsin have collaborated to offer on-demand, bonus virtual content as part of our 2022 autism conferences. We are proud to be able to extend our partnership in a way that increases access to the rich educational content featured at each of our conferences.
Fourteen select breakout sessions, seven each from our separate, in-person 2022 conferences, were recorded and are available for unlimited, on-demand viewing May 3-June 3, 2022. Bonus content does not include keynote presentation recordings. Virtual content is available for purchase for $100, and includes these sessions:
What Do I Tell My Very Young Sibling Child? presented by Harriet Redman, MS, Ed
Let's Be Honest: Autistics Can and Do Have Sex presented by Stacy Stefaniak Luther, PsyD, LPC
Regulating Together- Autism, Trauma, and the Family presented by Jen Bluske, OTR & Jenna Mao, LPC, BC-DMT
Behavior Impedes Learning? I've Checked Yes, Now What! presented by Katie Berg, MA Ed
How to Hire, Train, and Retain Respite Providers presented by Val Madsen, M.S., CTRS
Prioritizing Core Communication Across Grade Levels presented by Sarah Singleton & Holly Smith
Autistic Identity presented by Denielle E. Everson
Be Your Own Boss: 5 Easy Ways to Direct Your Own Services presented by Jennifer Drganc and Lana Lambrecht, RN
Cultural Capitalism: How Work Defines Worth presented by Ashley Oolman and Alli Strong-Martin
Autism and Aging: The Research, Autistic Concerns, and Best Practice for Support presented by Dr. Elizabeth Scheel-Keita and Dr. Bridget Conlon-Mayfield, PhD
Do No Harm: Recognizing the Subtle Racism of Autism Assessments and Their Effects on Multicultural Families presented by Rufo Jiru and Maren Christenson Hofer
Teaching Intersectional Self-Advocacy to Students with Autism and Other Social Identities presented by Lynn Stansberry-Brusnahan, PhD and Emily Bedford
Trauma Informed Educare presented by Tamera Pulver
Autism and Sleep: Help is Here presented by Sarah Moe
Handouts and slides are available for all conference registrants. If you registered for the conference, click here to access all currently available handouts. You will need the password you received via e-mail in order to access these materials.
Handouts and Slides
Thank you, 2022 Sponsors!
Platinum
Bronze
Allegra Downtown St. Paul
Exhibitors
Autism Advocacy & Law Center
Blue Cross and Blue Shield of Minnesota and Blue Plus
Courage Kenny Rehabilitation Institute, part of Allina Health
Down Syndrome Association of Minnesota
Epilepsy Foundation of Minnesota
Minnesota Independence College & Community
MN Masonic Children's Clinic for Communication Disorders
NEST - New Educator Support & Tools
Partners in Policymaking | Minnesota Governor's Council on Developmental Disabilities
PICS - Partners in Community Supports
Spectrum Pride International
St. David's Center for Child & Family Development
UnitedHealthcare Community Plan of Minnesota