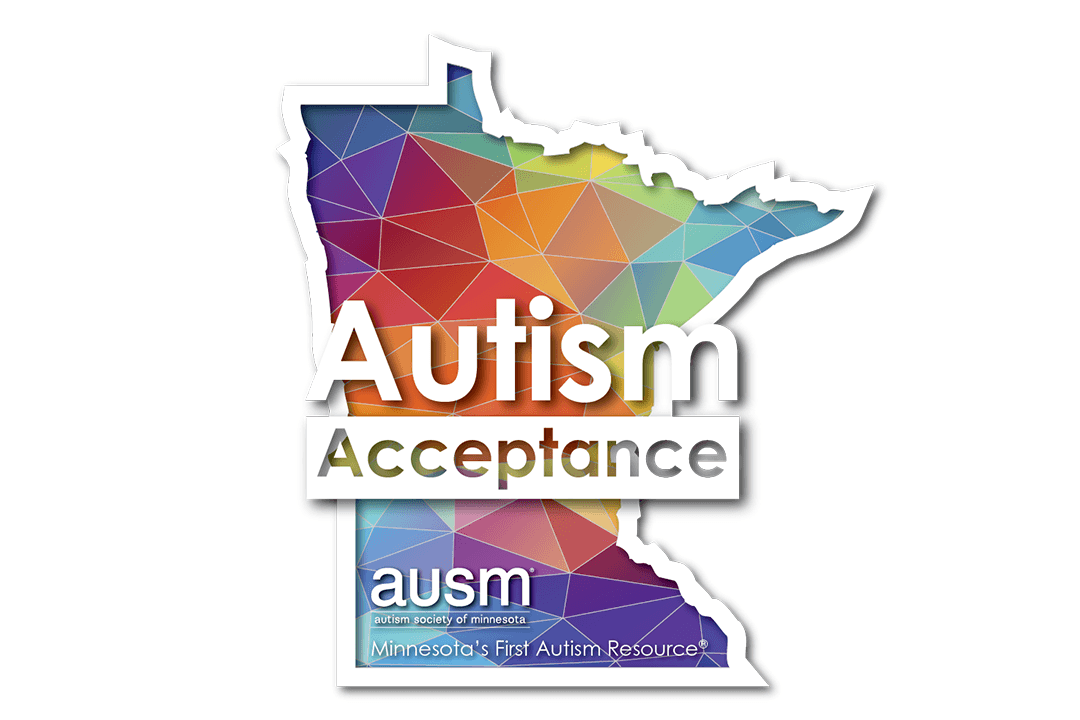 April is Autism Acceptance Month
In 2008, the United Nations General Assembly established April 2 as World Autism Awareness Day, which then morphed into a full month, with community members spending April focused on awareness. The autism community has largely since outgrown "autism awareness" and grown into "autism acceptance." Autism awareness was a good start that must still go further. Welcome to Autism Acceptance Month, April 2023.
Autism is the fastest growing developmental disability in Minnesota. Whether you know it or not, you know someone who is affected by autism. One in 34 Minnesotans are autistic, a prevalence rate that tells us that the autism community really is all of us – it's your friends, your colleagues, your neighbors, and their families – all people worthy of our shared acceptance.
What can you do?
Every April, Autism Acceptance Month, is a special opportunity to show your support for the autism community. AuSM invites you to partner with us in April to increase autism acceptance. Partners participate in one or more of the following activities starting in April and continuing for as long as desired. Participation can include:
Collect donations for AuSM: Encourage your customers to donate in support of the local autism community. AuSM asks that all third-party fundraisers check in with us here.
Support legislation on disability rights by making sure your local representatives hear your voice on issues relevant to the autism community.
Share an AuSM autism acceptance graphic: Post the graphic in social media, on your website, in your e-mail signature.
Offer a sensory-friendly activity or accessible event/time within your normal schedule.
Get social: Show your support by sharing information about AuSM on your Facebook and Twitter pages. "Like" www.facebook.com/AuSM.org and follow @AutismMN on Twitter and @AuSMMN on Instagram.
Offer a special product or service to support autism acceptance: Create a special giveaway – cookies, beverages, item for sale – that represents autism acceptance, with proceeds going to support the Minnesota autism community.
Round up for AuSM: Give customers the opportunity to "round up" their purchases to the next dollar to support the Minnesota autism community.
Train your staff on neurodiversity, enroll in autism training with AuSM, or sign up for our Understanding Autism class (free thanks to presenting sponsor Accra)
Read books, articles, and content from autistic authors – and share what you learn about neurodiversity on social media.
Learn about autism by attending the Minnesota State Autism Conference April 26-28.
Donate and/or start a fundraising team for Steps for Autism in Minnesota.
Create our own plan – and please let us know so we can share it with others.
Autism acceptance resonates with AuSM's mission to create connections, empowering everyone in the autism community with the resources needed to live fully.
How are awareness and acceptance different, and why must we move towards acceptance? Autism awareness gets stuck seeing only our differences, while acceptance finds commonalities. Awareness can too often be just a passing glance at shortcomings, while acceptance sharpens its sustained focus on abilities and strengths, grounded in careful listening to the autistic community itself. With acceptance, we remember that awareness focused on the wrong things sets us back as a community. Acceptance includes accepting that there's no cure for autism, and that we don't need to waste our energy trying to fix people who are not broken.
Of course, acceptance isn't an end point. It's just another step toward true inclusion and support for everyone in our community. Disability rights are human rights, and as such, they should always move forward – never ceding back nor remaining stagnant. Awareness was never enough. Acceptance can grow further into appreciation.
Governor Tim Walz similarly shared this sentiment in his State of Minnesota proclamation issued for Autism Acceptance Month: "Minnesota acknowledges the limits of asking for awareness and promotes and celebrates the acceptance and appreciation of people with autism as the next step beyond awareness," said Gov. Walz. "Minnesota acknowledges that although this celebration of autistic culture and community provides a starting point, that there remains significant room for progress towards equitable access and inclusion for all Minnesotans with autism."
Standing on the shoulders of giants in autistic self-advocacy, we can look back on gratifying progress toward autism acceptance. We acknowledge where we've been, and assess where we're at – all to inform our way still forward to realize greater inclusion for people with autism.
Let's make it happen together this Autism Acceptance Month.
Thank you, 2023 Autism Acceptance Month Partners!
Accra
Allegra Downtown St. Paul
Autism Advocacy & Law Center, LLC
Best Care
Craft & Crew Hospitality (option to round-up to-go orders, accepting donations at all five restaurants: Stanley's in NE MPLS; The Howe Daily Kitchen in South MPLS; The Block Food & Drink in St. Louis Park; Pub 819 in Hopkins; Duke's on 7 in Minnetonka)
The Gifted Learning Lab
Minneapolis Public Schools
Minnesota Independence College & Community (MICC)
Minnesota Valley Education District (MVED)
Multicultural Autism Action Network (MAAN)
Partners in Community Supports (PICS)
Partnership Academy
People Helping People
Prince Hall Grand Chapter of Minnesota
Somali Parents Autism Network (SPAN)
Today's Autistic Moment