Jigsaw Puzzle Competition
Nov. 4, 2023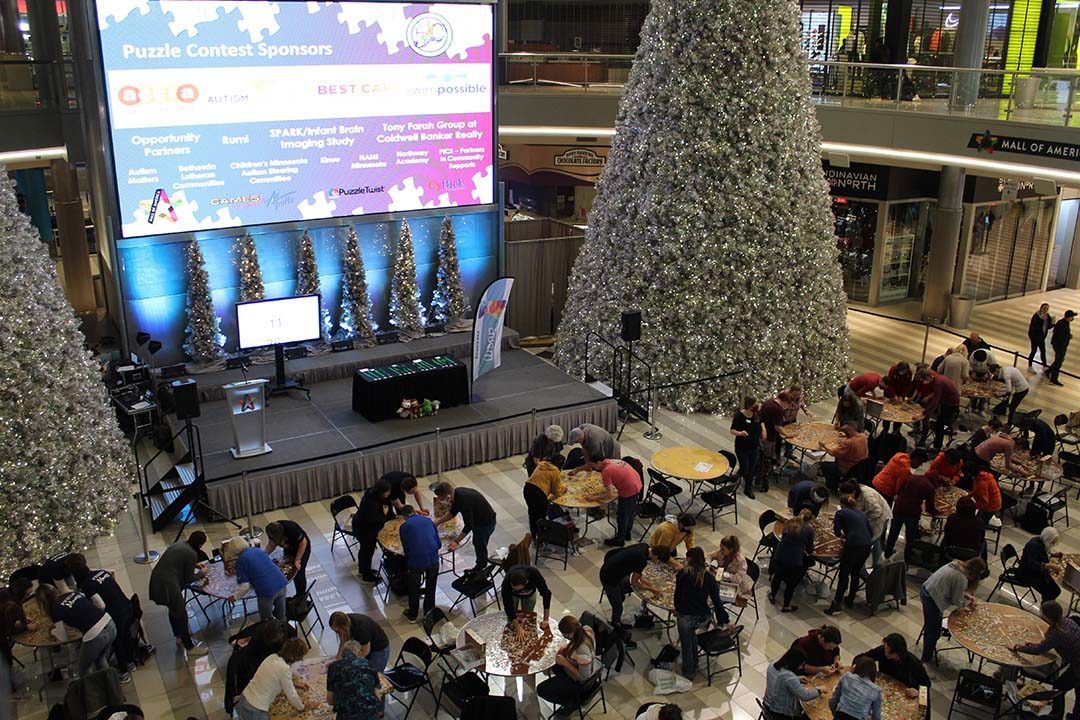 The 6th Annual AuSM Connections Jigsaw Puzzle Competition will be offered in both an in-person and virtual format in 2023! On Nov. 4 from 8:30 a.m.-4:30 p.m., teams of puzzlers will gather at the Mall of America Huntington Bank Rotunda and on Zoom to put their skills to the test while supporting the local autism community. Whether you are a serious puzzle-building competitor or just want to have fun building a neat puzzle with friends and family while supporting the local autism community, we invite you to join us. The competition will include an autism resources fair in the Huntington Bank Rotunda and an exciting live audience to cheer on our puzzling teams!
Organized by the Autism Society of Minnesota (AuSM) in partnership with PuzzleTwist and Games by James/Air Traffic, the AuSM Connections Jigsaw Puzzle Competition offers the opportunity for teams of up to four, located anywhere in the U.S., to put their jigsaw puzzling passion to the test by competing for the fastest puzzle completion time. The event will feature three team divisions including the 500-Piece Division (8:30-10:30 a.m.), 2 person 500-Piece Division (11 a.m.-1 p.m.) and the 1,000-Piece Division (1:30-4:30 p.m.) in both in-person and virtual formats.
Cost: $40-60 per team. Virtual teams can have their puzzle shipped for an additional fee. Register by October 20 to have your puzzle shipped. Teams can also pick up their puzzle from the AuSM Office by Nov. 1.
NEW for 2023: Very Important Puzzlers
Puzzlers in any bracket can choose to add on a VIP registration: for a $20 donation to AuSM, you'll receive a $20 gift card to Games by James!
Divisions
2 Person 500-Piece Division (8:30-10:30 a.m.)
500-Piece Division (11 a.m.-1 p.m.): The in-person 500-piece division is now full! If you would still like to compete in the 500-piece division, please register for the virtual option.
Advanced and Beginner brackets. If you are competing in the 1000-piece division, please sign up for the Advanced bracket.
1000-Piece Division (1:30-4:30 p.m.)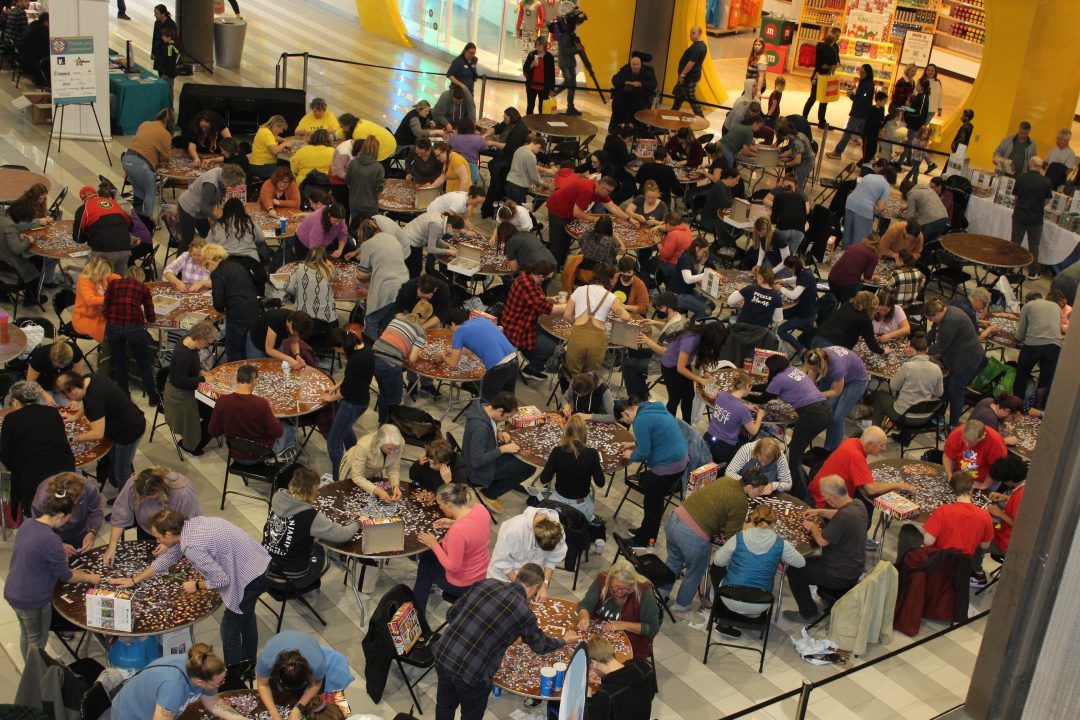 Rules & Regulations
Each team will keep their puzzle.

In-person contestants receive their puzzle when they register. Virtual participants will receive theirs in advance.

No early starts! If you open your bag and begin your puzzle before the start of the contest you will be disqualified.

Hands only! The use of any puzzle tools, cutting devices, flashlights or phones is grounds for disqualification.

Judges will be monitoring the area and watching as teams get close to finishing. When your team is close to finishing, raise your hand and a judge will come to your table to watch you finish and record your time. If a judge is unable to get to your table when you finish, please record your own time on the time card provided at your table.

Winners will be announced immediately following the competition.

Prizes will be awarded to the top two teams in each division.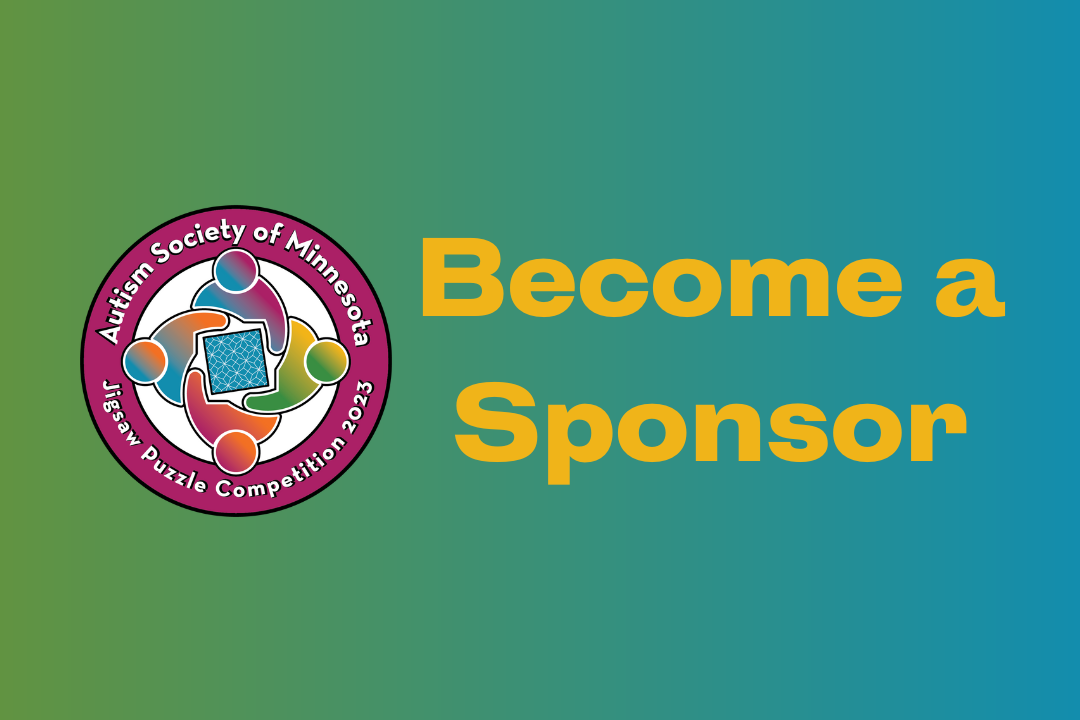 Reach Hundreds of Puzzlers
Reach audiences at the Mall of America and across the country by sponsoring the 2023 AuSM Puzzle Competition. Sponsors will receive recognition at the Mall of America and in the virtual Zoom rooms and will be featured on the rules sheet distributed with each puzzle. Sponsorships start at $500 and include tons of perks for your organization.
Sponsor Today
Thank you, 2023 Sponsors!
Silver Sponsors
Bronze Sponsors
Looking Forward Life Coaching
Resource Tables
Minnesota Autism Resource Portal
Print Sponsor
Allegra Downtown St. Paul
Note: The Autism Society of Minnesota does not support the use of the puzzle piece as a symbol for autism and does not use puzzle piece images or references in any of the autism information and resources we provide. This decision was made based on the concerns of autistic people and their objections to the use of the puzzle piece as a symbol for autism. AuSM's jigsaw puzzle competition is a contest that brings folks from across the country together as teams to compete in-person and virtually in a hobby that has an enthusiastic following and is unrelated to the use of the puzzle piece as a symbol. This puzzle-constructing competition is a fundraiser that supports AuSM's programs and services for the local autism community, and includes an autism resource fair where folks can learn more about autism. AuSM's jigsaw puzzle fundraiser was created based on the wide-following of this hobby and the opportunity to educate community members while providing a family-friendly, inclusive event that supports AuSM's mission.