Virtual Workshop, Dec. 1: A Kinder Approach to Challenging Behavior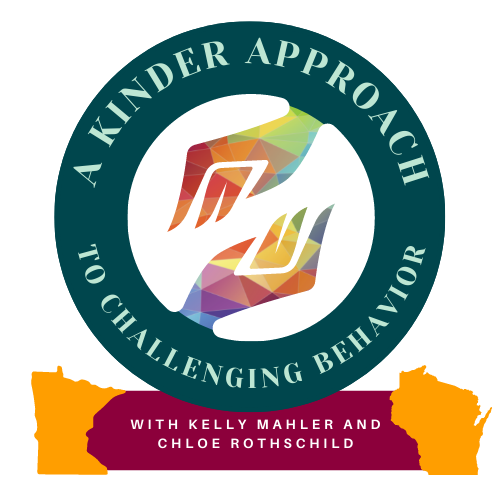 Co-hosted by Kelly Mahler and Chloe Rothschild, this virtual workshop, A Kinder Approach to Challenging Behavior, will present 5 key areas that should be a support consideration for every single person: Finding the WHY, Communication, Sensory Needs, Predictability, and a Structured Approach to Emotional Understanding. The shared experiences from both an occupational therapist (Kelly) and an adult with autism (Chloe) will combine to give attendees a well-rounded perspective.
We're grateful to our partner, Autism Society of Greater Wisconsin, for co-presenting this workshop. Several audiences in our collective autistic community will find this to be valuable, informative content, including parents and caregivers, educators, direct service providers, and support professionals. This workshop was presented live on Dec. 1, but you can still register to view the recording until January 2, 2023. Register here.
Date and time:
Dec. 1, 2022
9:00 a.m. – 12 p.m.
Location:
Virtually via Zoom
Registration
AuSM Member: $45
Non-Member: $55
Individual with ASD: $35
Presenters:
KELLY MAHLER
Kelly Mahler OTD, OTR/L, earned a Doctorate in Occupational Therapy from Misericordia University, Dallas, PA. She has been an occupational therapist for 20 years, serving school-aged children and adults. Kelly is winner of multiple awards, including the 2020 American Occupational Therapy Association Emerging and Innovative Practice Award & a Mom's Choice Gold Medal. She is an adjunct faculty member at Elizabethtown College, Elizabethtown, PA as well as at Misericordia University, Dallas, PA. Kelly is a co-principal investigator in several research projects pertaining to topics such as interoception, self-regulation, trauma & autism.
CHLOE ROTHSCHILD
Chloe is an adult with autism who is on a mission to advocate and teach others about autism from her perspective. Chloe is one of the co-authors of the My Interoception Workbook for Teens, Adolescents, and Adults. She also serves on the Arc of the United States national board and the Ohio Center for Autism and Low Incidence (OCALI) advisory board. Chloe works as a teacher's aide at an autism school three days a week. When Chloe is not presenting or working, she enjoys spending time with her friends and family, participating in adaptive ice skating and dog agility for individuals with autism.
Workshop Partners:
AUTISM SOCIETY OF GREATER WISCONSIN
The Autism Society of Greater Wisconsin exists to provide a community for individuals affected by autism, their families, and professionals who serve them. Our goal is to increase the quality of life for those affected by autism and respond to the emerging needs of the autism community. We are passionately committed to improving the lives of those affected by autism in our 53 county service area through our five core services areas; support, information & referral, advocacy, education and building community. We're here to share your journey through all of life's stages.
AUTISM SOCIETY OF MINNESOTA (AUSM)
AuSM is a place where everyone can learn, access services, and develop skills for navigating what can be challenging emotions and complex information. Services include membership, workshops, the Minnesota autism conference, AuSM Skillshops, the Life with Autism Series for newly diagnosed and specific life stages, specially tailored summer camps for youth and adults with autism, interest-based social skills classes with community partners, Counseling and Consulting Services, support groups, Autism Direct Support Certification training, sensory-friendly events, advocacy, Information and Resources, and customized autism training.
More info here.