Give to the Max Day
Nov. 19, 2020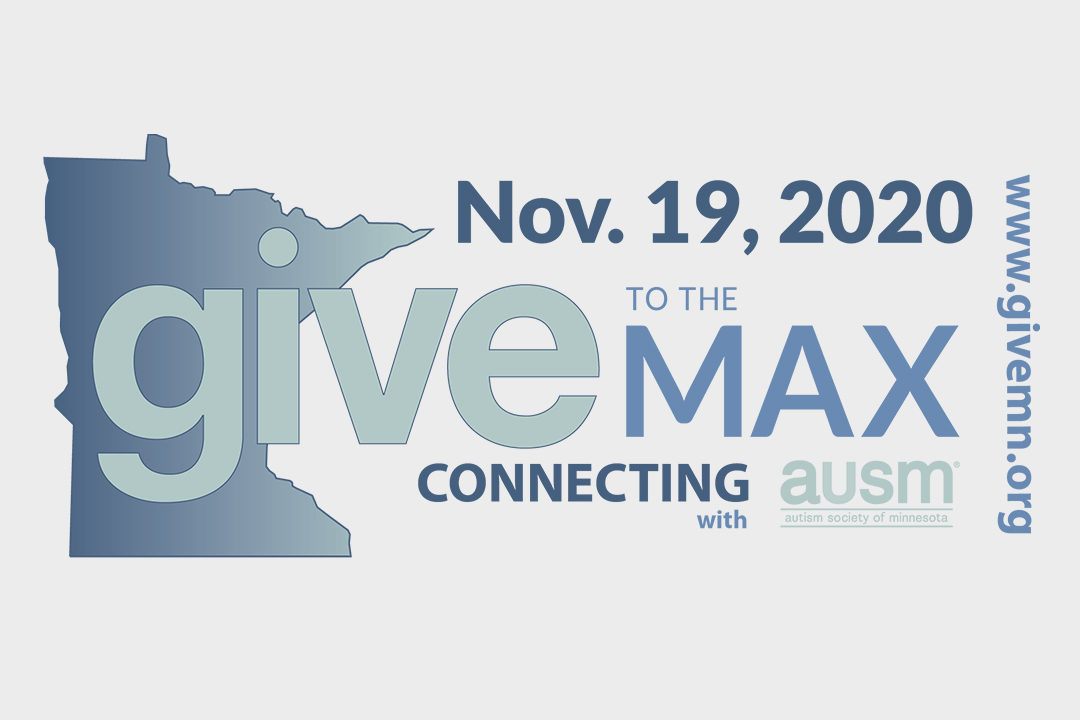 We are extremely pleased to report that around 9 p.m. on Nov. 19, Give to the Max Day 2020, AuSM met and surpassed our donations goal of $35,000.
Just as AuSM stepped up to creatively offer much-needed programs and services in 2020, our community stepped up to show us their support.
You gave generously, and we are grateful.
Your investment in AuSM supports all the ways in which we enhance the lives of people with autism through flexibility, nimble responses, and a commitment to the people we serve and love.
Confidence and creativity carry us into our 50th year of serving the Minnesota autism community, and our mission is our guide. We will continue to enhance the lives of individuals and families affected by Autism Spectrum Disorder, with a fundamental commitment to advocacy, education, support, collaboration, and community building.
Thank you for your support on Give to the Max Day and every day.
Sincerely,
Ellie Wilson, AuSM Executive Director and the AuSM Staff
If you'd like to encourage additional giving through your networks in support of the local autism community, gifts can be made on this site through the "Donate" button in the upper right corner or through the below link to GiveMN.
Thank you, match fund donors!
Thank you for our generous AuSM Match Fund donors including the Twin Cities Autism Foundation, AuSM Board of Directors members, and community supporters. Because of their early contributions, donations up to $18,600 were doubled for Give to the Max Day 2020!
Donate through GiveMN
Testimonial
"Telehealth sessions with my AuSM therapist have made it possible for me to continue meeting with my therapist when I've needed to."
–Chris
Testimonial
"I attend more support group meetings than I did when I had to drive to them. And I had never before attended an autistics to autistsics event (Autistic Community Summit), much less presented during one. I've also met many autistic folks I didn't really know before we were quarantined. I hope to keep in touch with some of them once we can meet in person again. I'm an older autistic person, with an imperfect life and career. I draw on my experiences to encourage younger autistic people to hang in there while dealing with this pandemic and other hard times. I'm trying to help them keep believing that things will improve."
–Kate
Testimonial
"I really appreciated the opportunity to learn from amazing keynote and breakout speakers from the Autism Societies of Minnesota and Greater Wisconsin at the Stronger Together in 2020 virtual conference. I enjoyed the flexibility of being able to listen to speakers in real time or to listen at a more convenient time. I also found it helpful to have the option to revisit the content as needed. The preconference training with Kelly Mahler was exceptional!"
–Kelly Kautz
Testimonial
"My support needs during the pandemic have remained the same, only now I'm able to participate. Having things virtual is much easier for many reasons! I'm very happy to be able to participate and meet friends this way. I can socialize safely from home. I can participate more than I ever did before the pandemic started."
–Katrina
Testimonial
"Our organization partnered with AuSM's Eric Ringgenberg to present a virtual back to school educational event for parents of students with ASD in the community of Austin, Minn. and the surrounding areas. AuSM has helped our organization continue to bring resources to parents, caregivers, and those with ASD at a time when they are most vulnerable and need it most."
–Mary Barinka, Autism Friendly Austin