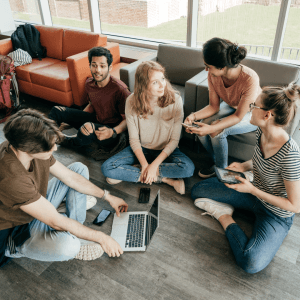 These resources are all about issues related to communication and socialization, including relationships, friendships, AAC, and visual supports.
Relationship Guideposts
Learn about a variety of behaviors and signs that will help you to determine if a relationship is healthy, unhealthy, or abusive.
Social Rules for Online Dating
If you're interested in online dating, but want more information about what to expect and the social rules that others will want you to follow, this document can help guide you.
Autistic Sexual Bill of Rights and Building Your Own Bill of Rights Worksheet
An overview of the rights every individual has in relationships plus information about determining your own wants and needs in a relationship.
How to Create an Online Dating Profile
First impressions are important when meeting people online and in-person! When someone is dating online, they can create a profile that reflects who they are and allows others to see if they have interests or values in common. Use this worksheet to create an online dating profile that communicates who you are!
7 Things to Know About ASD and Sexuality
A quick overview of important facts about autism and sexuality.
Friendship Card
Use this card to share your contact info with new acquaintances you'd like to get to know. For more details on how to use this card, click here.
Augmentative and Alternative Communication: Autistic Children
This article outlines why autistic children may need augmentative and alternative communication (AAC), some common options, and things to consider when choosing a system.
AAC Devices: What They Are and How You Can Get One For Your Autistic Child
An outline from a parent perspective about what AAC is and how to get a device for your child.
Communication Tools: Visual Supports
This guide from the National Autistic Society shares common visual supports for communication, including why they're useful, different types, how to use them, and examples.
Communication Tools: Social Stories and Comic Strip Conversations
This guide from the National Autistic Society overviews how you can use Social Stories and comic strips to better understand social situations, practice communicating, and prepare for unexpected situations.
Social Narratives
How to Practice Healthy Boundaries Social Narrative
Navigating People Who Violate Boundaries Social Narrative